Residential Locksmith in Newark, NJ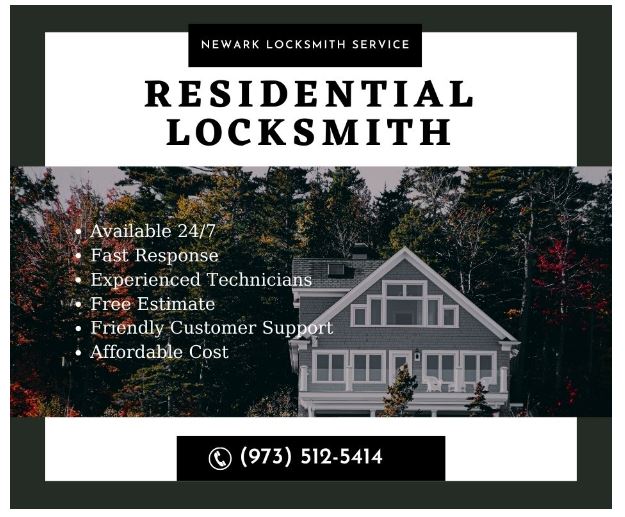 If you're looking for a reliable locksmith in Newark, NJ, look no further than Newark Locksmith Service. We specialize in residential locksmith services, from lock repairs and replacements to re-keying and keyless entry.
Our team of expert specialists is accessible 24/7 to assist you with any problem you may be experiencing. We realize how important it is to keep your house safe. Therefore we strive to deliver fast and timely service on every job. Plus, we offer competitive prices to ensure you get the most cost-effective solution.
So if you need a residential locksmith in Newark, NJ, don't hesitate to call us at (973) 512-5414. We look forward to helping you keep your home safe and secure!
Home Lockouts
Being locked out of your home can be an incredibly frustrating experience. Not only do you have to worry about how to get back in, but it can also be embarrassing if someone else has to help you. Newark Locksmith Service is the perfect solution for all your home lockout needs. We offer fast and reliable lockout service for any residential property.
Our experienced technicians are highly skilled in various locks, including traditional locks, Schlage locks, Kwikset locks, and more. We work quickly and efficiently to get your home unlocked as soon as possible. Whether you're locked out due to lost keys or damage to the locks, our team can help. We also provide emergency services should you find yourself locked out late at night.
Newark Locksmith Service has the experience and knowledge needed to get your home back open with minimal disruption.
Locks Installation, Repair & Replacement
Two out of every three house robbers get entry via a door. Your front and rear door locks are the first lines of protection against burglars in your house. If you need a new lock installed on your door, make sure it is done by a reputable locksmith professional like one of ours.
Newark Locksmith Service provides a complete range of locks installation, repair and replacement services for residential purposes. Our skilled team of locksmiths is experienced in the latest lock technology and can provide the best possible solution to meet your security needs. We provide emergency services around the clock, so you can count on us to be there when you need us. Our goal is to ensure our customers' satisfaction with quality workmanship and prompt service.
Safes Unlock & Installation
Some items are very difficult, if not impossible, to replace. A fireproof safe may assist in preserving valuables in the case of a domestic break-in, fire, flood, or another natural catastrophe. Examples include jewelry, birth certificates, passports, and savings bonds.
Newark Locksmith Service is the premier locksmith in the area, providing customers with top-notch safe unlock and installation services. We use state-of-the-art tools and technologies to ensure that your safes are securely installed and opened quickly and efficiently.
Our experienced locksmiths provide professional, friendly service at competitive rates. We guarantee our work and are dedicated to providing you with the best service possible. You can trust Newark Locksmith Service to keep you safe, secure and accessible whenever you need it.
Master Keying
Master keying is a system that controls access to multiple locks in a given area. It allows for one key to open all the locks, while individual keys are also issued to specific people that can only open their lock.
Newark Locksmith Service is the premier provider of home master keying services in the area. Our trained technicians can create an efficient and secure system that allows you to control access to different areas of your home while providing peace of mind. Contact us today for all your home master keying needs!
Peephole & Door Scope Installation
As strong deadbolts and dependable window locks have grown more widespread, some thieves have discovered that ringing the doorbell is the simplest method to gain entry into a home. As a result, never open the door until you know who's on the other side. Install a door peephole if you don't have windows that allow you to see who is knocking.
Whether you need a simple peephole installation or a more complex door scope installation, at Newark Locksmith Service, you have the expertise to do it quickly and professionally. Contact Home Peephole & Door Scope Installation today for all your locksmith needs!
Gates And Garage Doors Locks
One of the primary sites targeted to get entry to your home is your garage. As a result, it is critical that you have the greatest available locks for your garages and doors. We're here to help you lock your home doors the way you want them to be locked, which is why we offer free home gates and garage door locksmith services.
We'll get to the bottom of the problem and help you get your home's doors locked and open once again using the latest technology and methods. Our staff of qualified locksmiths will get to work on your door once we know the issue.
Security Alarms Installation & Repair
If your house has been broken into, it is possible that your lock has been picked up or your door has been pushed open. In the event of a security breach, our emergency locksmiths may re-key or replace your lock with a more secure option. And our residential locksmiths will ensure that the strike plate into which your bolt is inserted is strong enough to withstand a thief's force.
We specialize in installing alarm systems that deter intruders, detect fire dangers and monitor for carbon monoxide leaks. Our team will provide a detailed consultation to determine the best system for your needs and budget. Contact us today to learn more about how we can help keep your home safe and secure.
Mailbox Lockouts & Installation
Mailbox security safeguards your personal and commercial correspondence. Prime Locksmith offers a comprehensive range of home and business mail security solutions. Your mailbox locks may be worn, corroded, or need to be replaced.
At Newark Locksmith Service, we offer 24/7 emergency service to ensure that your problem is addressed quickly and efficiently. Our dependable specialists can assist you whether you need to repair a misplaced key or install a new mailbox lock. We also provide various other services, such as re-keying, master keying, and access control systems. For more information about our services, please contact us today!