Door Lock Change Newark, NJ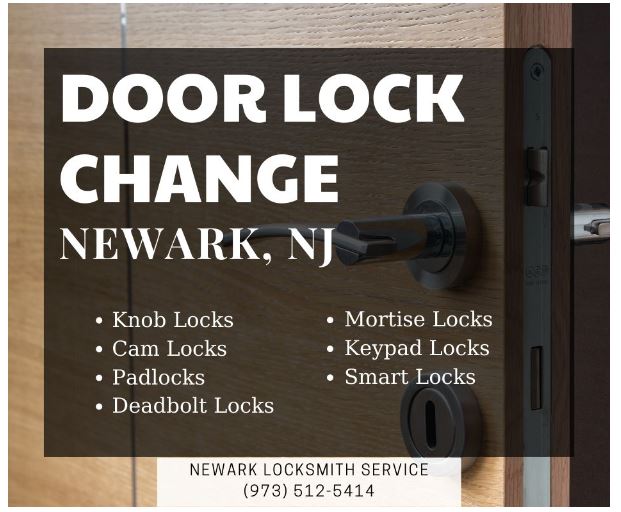 Are you looking for a reliable locksmith to change your door locks? Newark Locksmith Service is the answer.
We provide top-of-the-line door lock-changing services in Newark, NJ and the surrounding areas. Our experienced and certified locksmiths are available 24/7 to help with all your lock needs. We can also provide emergency services if you are locked out of your house or apartment.
We are proud to offer cost-effective solutions that are both reliable and efficient. We are committed to providing quality service and customer satisfaction, so don't hesitate to call us at (973) 512-5414. Let us help you stay safe and secure!
Reasons For Changing Your Locks
You Relocated To A New Residence
One of the most common mistakes individuals make is failing to update their locks after relocating to a new property. Many people forget that when they buy a new property, not only do the previous owners keep the key but so does the agent who sold you the house.
Replacing your lock after a new relocation is critical since failure to do so exposes you to an unwelcome realtor or previous owner visit. Not everyone can be trusted to keep their bounds! Furthermore, you never know how many other individuals have duplicates of that key, such as the previous owner's children, relatives, neighbors, or acquaintances.
You Misplaced Your Keys
It is never as easy as procuring a new key when losing it. Whether you misplaced the key to your home, business, or even a safe, that key will eventually get up in the hands of a stranger. It is usually better to prevent a future break-in or controversy by simply changing the lock and beginning anew with a new key!
A Recent Break-In Occurred
Unwanted intruders are one of the most common causes of a lock replacement. Even if the burglar entered your house without using the key you had stashed under the mat, you never know their intentions. Many burglaries do not finish at the point of entry; there is always the possibility that they discovered your spare key and duplicated it for their buddies. Replacing the locks quickly after a break-in will prevent subsequent risky break-in activities.
Someone Has Moved Out
It is especially crucial if you own property that you rent out to others that every lock is changed once someone goes out. Replacing the locks after a renter departs keeps them from returning, as well as any other illegal guests who may enter after the lease expires. Keys are notorious for being duplicated and distributed to relatives and friends.
Divorce vs. Breakup
Divorce or breakups may often end in a nasty fashion; therefore, upgrading the locks on your house is a crucial step in ensuring your safety. Even if the relationship ended amicably, your ex might believe they have the right to barge in at any moment without notice...even if they are merely collecting the remainder of their belongings.
Replacing your locks will also create a strong boundary line, requiring them to seek permission before entering your property. So, to keep as secure as possible, minimize tension before it begins by upgrading your locks!
Changes in Lifestyle
Not all locks are one-size-fits-all products; in other words, there are instances when a specific kind of lock that individuals with disabilities can operate is required. Even if the issue is temporary, such as a broken wrist or arm, changing your lock with one that is appropriate for your present circumstance helps alleviate the stress of being unable to open the door.
Design Improvements
Replacing your locks does not always have to be for safety reasons; sometimes, a lock replacement is simply due to a change in style. If you are remodeling your house and changing your doors, updating your locks after the renovation can complete the appearance of your new design!
Locks That Are Old Or Worn Out
The locks on your doors are not forever items. They can wear out rapidly, especially considering they are used numerous times every day. Most people do not realize that the more you use something, the more worn out and damaged it becomes. And when it comes to your doors, the locks are likely to be the first to go. It's never a terrible idea to change those locks every few years, even if it's only for peace of mind.
Types Of Locks Newark Locksmith Service
Knob Locks
Knob locks are a kind of door lock that opens using a circular knob or handle. Knob locks are regarded as rather secure, but with enough power, they may be quickly picked or forced open. With no springs to contend with, these locks provide an added degree of security by securing the door straight into the wall.
Deadbolts are ideally fitted on steel, solid wood, or fiberglass doors and may be opened with a key or a thumb turn. Our business installs single-cylinder and double-cylinder deadbolts with key activation on either one or both sides of the door.
Cam Locks
Cam locks are fasteners with an attached arm, or cam, that rotates to lock. They are cylindrical and feature a metal tube with a hole on one side that aids in the positioning of the bolt when inserted. These door locks are often used to restrict unwanted entry into vending machines, filing cabinets, workstations, and display cases.
We specialize in replacing cam locks swiftly and effectively at Newark Locksmith Service. Our skilled locksmiths can precisely replace any cam lock, guaranteeing optimal security for your home. Get in touch with us now to learn more about our cam lock replacement services!
Padlocks
Padlocks are self-contained. They are movable, unlike other kinds of locks, and are not permanently affixed to a door or container. They are available in a number of models, which are divided into two categories: keyed and combination. Keyed padlocks are also classified into three types: keyed alike, keyed differently, and keyable.
Our professional and certified experts can swiftly and effectively replace your current padlocks with new, safe locks that boost property security. You can be certain that your property is safe and secure with Newark Locksmith Service.
Deadbolt Locks
Deadbolts provide even more security against burglaries or break-ins. They feature lock bolts that move when a knob or key is turned rather than a spring. Because of their unique locking mechanism, they are more resistant to physical assaults, pounding, and drilling, making them less vulnerable to a knife or hand tool.
Newark Locksmith Service serves residential and business clients with quick and dependable deadbolt lock changing services. Our expert locksmiths are on standby 24/7, ready to help you out with all your lock-related dilemmas - whether you need to install a fresh deadbolt or replace an existing one.
Newark Locksmith Service can assist you whether you need a single lock replaced or many locks changed. Contact us immediately to discuss your deadbolt lock replacement requirements.
Mortise Locks
Mortise locks are strong locks that are used on outside doors. They are available in light-duty and heavy-duty varieties. Rather than being just a simple lock, they are more of a complex lockset with an internal system. Mortise Locks Change is a service that assists in resolving lock-related concerns in residences.
At Newark Locksmith Service, we are delighted to assist clients in resolving lock difficulties, no matter how simple or complex the issue: from a basic issue with a key or lock to a more sophisticated one caused by damage or overuse. Our crew can assist you with various solutions, from minor repairs to more significant remarks concerning locks and home security.
We recognize that a locksmith may have to take on a problem on their own initiative from time to time, and we are pleased to assist with that - even if the locksmith is part of a huge corporation.
Keypad Locks
Keypad door locks may be unlocked without a key by utilizing an attached number keypad. They may be battery-powered or mechanical, and their locking mechanisms are often deadbolted locks, knob locks, or mortise locks.
Newark Locksmith Service is pleased to provide keypad lock-changing services to both residential and business clients. We exclusively utilize high-quality materials to guarantee that your new keypad lock will last for years. Contact us now to learn more about how we can assist you in making your home or company more safe.
Smart Locks
Smart locks are adaptable electronic door locks that provide extra options for locking and unlocking a door. While many smart locks have a keypad and a keyhole, the major advantage of a smart lock is the ability to lock and open it using a phone or key fob.
Many smart locks include Wi-Fi or Bluetooth connectivity and can link to home automation systems. These locks need electricity to operate and require battery changes on a regular basis.
Newark Locksmith Service provides cutting-edge smart lock technology to keep your house and company safe. Our skilled experts can install, repair, and service a wide range of smart locks, providing you peace of mind that your home is secure.
Why Choose Us
Convenience
We offer convenient door lock change services that are available 24/7, 365 days a year. This means that you can always find someone to help you change your door locks no matter when you need it.
Reliability
With years of experience in the industry, Newark Locksmith Service has proven to be reliable and trustworthy. We will make sure that your new door locks are installed correctly and securely.
Professionalism
The technicians at Newark Locksmith Service are highly experienced and well-trained. We use the latest tools and techniques to ensure that your new door locks are installed properly and securely.
Cost-effectiveness