Commercial Locksmith in Newark, NJ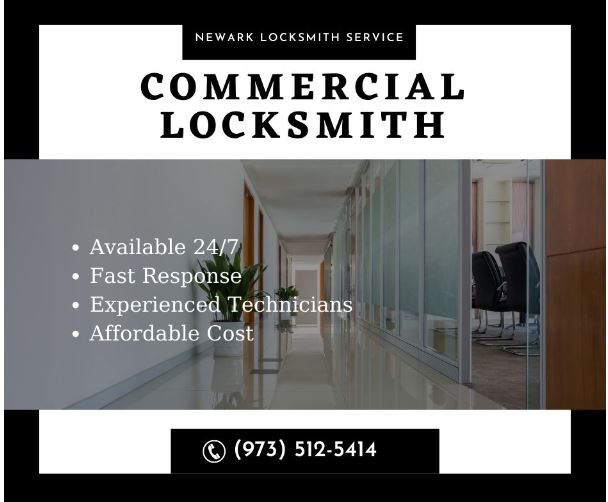 If you're in Newark, NJ and need a reliable commercial locksmith service, Newark Locksmith Service is the perfect place to turn to. We offer a full suite of services, ranging from lock installation and repair to key duplication.
Our team of highly skilled and experienced technicians is on-call 24/7 to deal with any emergency situation. With the latest technology and cost-effective solutions, our fast response times will guarantee your safety and security.
No job is too big or too small for us - so if you need a commercial locksmith in Newark, NJ, contact us at (973) 512-5414 today!
Commercial Building & Office Lockouts
Our emergency locksmiths are always on-call and can be at your side in moments to quickly get your security back to normal. Whether you're facing an office lock-out, experiencing lock-related damage, or simply needing to replace a misplaced key, we'll respond quickly and get your situation taken care of quickly and without any damage! Let us help you restore peace of mind and prevent any future frustrations.
Locks Installation & Repair
If you need help with the installation and repair of commercial locks, then look no further. Our experienced technicians are here to provide you with the highest quality service at an affordable price. We offer many services, including lock repairs, re-keying, and installations. We use only the best materials to ensure your locks will last for years.
Our technicians are highly trained and have the experience to ensure that your locks are installed correctly. We also offer emergency services if you are locked out of your business or building. So, don't delay – contact us today to get started on installing and repairing your commercial locks.
Mailbox Lock-outs & Installation
When it comes to your company, you must always keep your papers and correspondence safe. If your mailbox locks are not in good working condition, your firm may be in danger of having its mail stolen.
Any papers in your file cabinets should be kept safe while still being available to workers who need access. Our business locksmiths can assist you in repairing broken filing cabinet locks and mailbox locks. Suppose you want an added degree of security. In that case, we can also install stronger, improved locks on all your file cabinet systems and office mailboxes.
Master Keying
Make the most of your office environment with a master key system, the perfect way to customize your business' security! Our experienced commercial locksmiths can help you set up this convenient solution that allows specific employees access to certain doors while special individuals have keys that unlock all the doors in the company. Maximize your security and efficiency with this tailor-made system!
Security Alarms Installation & Repair
A company owner has enough to worry about without having to worry about someone breaking in and stealing their property. With all that pricey equipment and those valued staff, safety and security should be a primary concern for every company owner.
Suppose you want to upgrade your workplace security. In that case, our trained business locksmiths can assist you in selecting and installing a high-tech security system that will keep your company secure.
Cabinet Safes Unlock & Installation
Newark Locksmith Service offers professional cabinet safe unlock and installation services for businesses, homes, and other properties. Our highly trained technicians are equipped with the latest technology to provide reliable and secure cabinet-safe unlocking and installation services.
We use advanced lockpicking techniques to open locked safes and professionally install new safes using high-quality materials. Our experienced locksmiths have years of experience and expertise in all aspects of lock and key systems, so you can be sure that your property is safe and secure with our cabinet-safe unlock and installation services. Call us today for a free consultation.
Digital Locks Service & Reprogramming
Digital locks are becoming increasingly popular for commercial use; offering businesses increased security and convenience. Our professional service provides installation, reprogramming and maintenance of digital locks for a wide variety of businesses. We specialize in keyless entry systems, electronic access control systems and biometric locks, so your business is protected with the latest technology.
Our team of experienced technicians can help you choose the right system for your needs and provide expert advice on how to best use it. With our reliable service, you can be sure that your commercial property is safe and secure.
CCTV Systems
With a CCTV system, your business will enjoy an extra layer of protection - its effectiveness lies as much in its deterrent value as in the potential to provide evidence. Newark Locksmith Service provides commercial CCTV systems to businesses of all sizes.
Our experienced technicians are highly trained and specialize in designing and installing the perfect system tailored to your security needs. Our systems come with high-quality surveillance cameras, motion detectors, and digital video recorders that allow you to monitor your business 24/7.
We also offer a range of maintenance and repair services for existing systems. With our 24-hour emergency response time, you can be confident that your business is safe and secure. Let us know today to know more about our commercial CCTV systems and how we can help protect your business.
Why Choose Us
Quick Response Time
Newark Locksmith Service is dedicated to providing a fast response time, ensuring that any commercial lock-out situation is resolved quickly and efficiently.
Professionalism
Newark Locksmith Service provides professional locksmith services. Our team of experienced professionals is devoted to delivering superior service and maximum customer satisfaction.
Experience
Newark Locksmith Service has the knowledge and expertise to handle any commercial lock-out situation.
Quality Products
We only use the highest quality products to ensure that your commercial locks are secure and up to date with the latest technology.
Competitive Prices
Newark Locksmith Service offers competitive prices for all our services.
24/7 Availability
Our team is available 24 hours a day, 7 days a week, to provide emergency services when needed.
Reliability
You can trust Newark Locksmith Service to provide reliable service and products.
Need the best commercial locksmith service? Go to Newark Locksmith Service!