Emergency Locksmith in Newark, NJ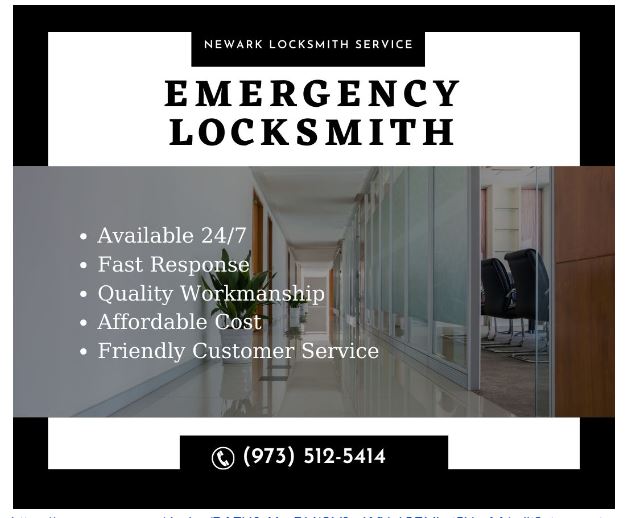 Do you need an emergency locksmith in Newark, NJ? Newark Locksmith Service is the place to go. We provide a variety of emergency locksmith services, from lockouts to key replacements.
We realize how inconvenient emergency lockouts may be, so we attempt to react swiftly and effectively. Our locksmiths are highly qualified and skilled, so you can be certain that your issue will be resolved as quickly as possible.
We also guarantee our services and provide affordable solutions for all locksmith problems. So if you're searching for a reputable emergency locksmith service in Newark, NJ, give us a call today at (973) 512-5414!
Home Lockouts
Most homeowners place a high value on home security, but what if you can't get inside your own house? It's inconvenient and irritating to be locked out of your home. It only occurs at the most inconvenient times, too, like when it's pouring, or you have a nasty headache, and your kid wants to use the restroom right now.
Looking for a quick, dependable, reasonably priced house lockout service near me? Contact Newark Locksmith Service now! We provide expert emergency lockout services 24 hours a day, seven days a week, with a 30-minute response time. We handle anything from lost keys and malfunctioning locks to rapid re-keying and lock-changing services for your home, apartment, or condo.
Car Lockouts
Every year, millions of drivers lock their keys in their cars—now you're one of them. If you find yourself locked out of your car with your keys inside, never fear - thanks to modern automotive engineering, there are plenty of tricks to help you get back in. But if you're in a pinch, professional locksmiths can help you!
For emergency auto lockouts, Newark Locksmith Service is the go-to option. Our skilled staff of trained locksmiths is ready 24/7 to assist you in swiftly and effectively regaining access to your vehicle. Contact us immediately to find out how we can assist you with your emergency auto lockout.
Lost House Key Replacement
You've misplaced your home key, haven't you? Don't be concerned. It happens to the best of us. Maybe you accidentally used it to pay for coffee, or maybe you left it somewhere and will recall where it is some morning when you wake up. A missing key isn't a big deal as long as you can still get into your residence. A locksmith can create a replacement.
At Newark Locksmith Service, we understand the anguish of losing a home key. We can assist you whether you've misplaced your lone copy or need a spare for another family member. In the event that you find yourself locked out of your home because you can't seem to find your key, don't hesitate to call us, and we'll be at your door in a jiffy!
Office Unlock Services
Unable to enter your workplace due to a lockout situation may be highly inconvenient. If you need a business lockout service, please do not hesitate to call our Newark Locksmith Service team. We provide skilled office lockout services to get you back into your workplace as soon and effectively as feasible.
Our experienced locksmiths are qualified to open all sorts of business locks and can give you the equipment and instructions you need to re-enter your workplace. We understand the value of keeping you connected to your workstation and are dedicated to ensuring you receive prompt and reliable assistance whenever necessary.
Jammed Ignition Key Extraction
Your keys may do a variety of annoying things to you over time, and you just have to cope with some of the terrible scenarios that may arise. If your lock is damaged or jammed, you may need a key replacement if our Newark Locksmith Service staff is unable to preserve it. However, with our educated knowledge and competence, we can do all possible to preserve your key.
We also want to be cautious since replacing damaged vehicle keys will cost you more money, which we do not want. We want every one of our customers to be satisfied with our services and to suggest us to their friends, which means that our locksmith business may continue to expand and be as popular as it is now.
Lost Car Key Replacement
You're set to depart; there's only one problem: You can't locate your keys. It might be irritating and annoying to be in this scenario. Don't worry if you've misplaced your vehicle keys in Newark! Our 24-hour locksmith service will assist you in receiving new vehicle keys swiftly.
We'll come to you, no matter where you are in town, and give you quick, dependable new keys so you can get back on the road as quickly as possible. Our skilled technicians utilize cutting-edge technology to program and cut new keys that fit your car exactly. Furthermore, our pricing is low, and our customer service is unrivaled. Contact us right away for a free quotation and quick key replacement service.
Broken Lock Repairs
Door locks were not designed to survive indefinitely. Suppose a lock is no longer operating properly or performing the crucial function for which it was built. In that case, it must be repaired or replaced. Call us if you need a dependable and economical lock-changing service in your neighborhood to install new locks for you. We provide a comprehensive range of lock installation services, including smart and electronic lock installation.
Lock Replacements
When a window breaks, you know you need to replace it. If your automobile tire is flat, it is evident that you need a replacement. You know what to do if a doorknob falls off in your hand. Your home's security is only as good as the locks on its doors. You may feel the need to alter your locks over time or as a consequence of security circumstances to preserve your safety and privacy.
Newark Locksmith Service delivers rapid and reliable emergency lock replacements. Our skilled locksmiths are ready 24 hours a day, 7 days a week, to assist you with any emergency lock replacement needs. From vehicle door lockouts to home re-keying, we have the knowledge and experience to solve any problem quickly and efficiently.
All of our services are given at competitive prices, so you can be certain that you are receiving high-quality service at a reasonable cost. For additional information or to make an appointment, please contact us now.
Safe Opening Office Lockouts
Security services have advanced in recent years. Protecting your company's assets is a good thing, but the same safeguards might occasionally prohibit you from accessing the property. When a safe is locked, the owner typically fears that they will never be able to get their possessions back or that the techniques of accessing the safe may destroy the contents.
The safety and preservation of this property are of the highest priority to Newark Locksmith Service, and the servicing locksmith will take every measure to ensure that degree of excellence.
Burglary Repairs
Burglars patrol areas are seeking uncut lawns and overflowing mailboxes. They seek darkened residences or lights that have been left on for an extended period of time in the evening. A break-in may be a distressing experience that leaves victims feeling bewildered and defenseless. The majority of people in this situation are unprepared and unsure of what they should do.
We may also do a security assessment to verify that your house or property is safe, that your insurance covers your locks, and that you are not an appealing target for prospective burglars in the future. If your house or company has been broken into, we can assist you in making your property secure again.
Burglars often leave damage when they gain entrance; such damage should be rectified as quickly as possible to preserve your safety and the security of your house or business. Newark Locksmith Service may repair break-ins and burglaries.