Car Locksmith in Newark, NJ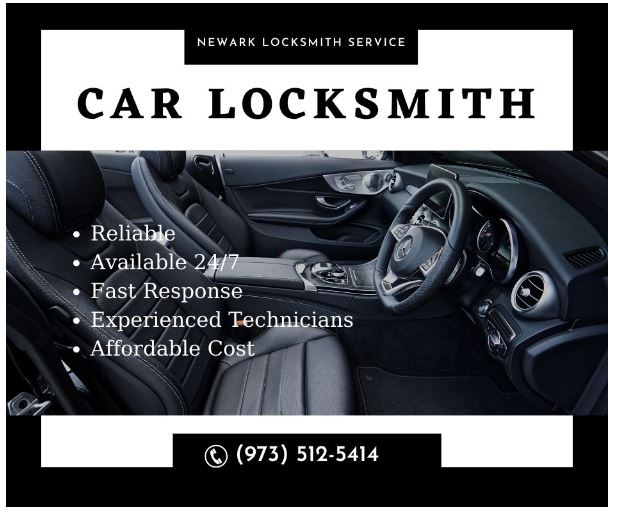 If you're looking for a reliable car locksmith in Newark, NJ, look no further than Newark Locksmith Service. We offer top-notch lock and key services for cars, homes, and businesses. Our professional team is always ready to help you with any emergency situation.
We understand the importance of having the right people when you need them the most. That's why we offer 24/7 service and guarantee satisfaction with all our work. We also provide a wide range of services, including lock rekeying, lock installation, key duplication, and more.
If you're stuck and need help immediately, call us at (973) 512-5414. We will be there in no time and solve your problem quickly and efficiently.
Car Lockouts
Are you locked out of your vehicle and searching for a nearby emergency auto lockout service? Contact Newark Locksmith Service! We can come in less than 30 minutes and immediately solve any jammed vehicle locks, damaged or lost keys, lock malfunction, keys trapped in the ignition, or car trunk lockout issues! Across the country, we provide 24-hour mobile roadside help.
Car Key Replacement
Is your vehicle key lost or stolen, or has it been damaged so that it no longer opens the car locks? You may need car key replacement services when your vehicle keys are damaged, lost, or broken. We provide automobile key replacement services seven days a week, 24 hours a day. Call us immediately for rapid and economical car key replacement services regardless of your vehicle's make, model, or year!
Car Key Extraction
At Newark Locksmith Service, our professionals can remove your stuck vehicle key for you at your place. When your key becomes stuck inside your car door lock, trunk, or vehicle ignition, regardless of where you are in the country, our specialists can assist you in removing your jammed key so you can go back to driving about town in no time. Our auto locksmiths are available 24/7 to help you with your vehicle key extraction requirements.
Car Key Duplication
Newark Locksmith Service can make duplicate keys that function the first time. Our experienced locksmiths can come to your location promptly and affordably to create extra keys. Before they depart, our mobile locksmiths will ensure that your backup key works correctly. If there are any problems with the new spare key, they will fix them while they are with you. A duplicate key is created by a procedure known as key cutting. an e-mail. Every year, our locksmiths create hundreds of keys.
Jammed Key In The Ignition
If your automobile key becomes stuck in the ignition, our professionals can assist you in carefully removing the jammed key. Vehicle ignitions are difficult to work with, so specific equipment must be utilized when dealing with ignition locks. We also want to be cautious since replacing damaged vehicle keys will cost you more money, which we don't want. We want every one of our customers to be satisfied with our services and suggest it to their friends so that our locksmith business may continue to expand and be as popular as it is now.
Ignition Switch Repairs
We are better equipped to provide you with more than the typical support functions you should anticipate from a locksmith. As specialists, we know what to anticipate when the automobile key damages the ignition cylinder. We can help locate the problematic portion and cut a new vehicle key. In a service like this, you will wind up paying for key extraction while avoiding the expense of a total ignition replacement.
Calling a professional vehicle locksmith like us to come to your area and solve the issue on the spot will save you time and, more importantly, money. People often refer to locksmiths as experts in lock repair and maintenance. What is less clear is that you have a better deal with us regarding ignition switch repairs and difficulties.
Transponder Key Programming
Car keys now have enhanced security safeguards to prevent this from happening. The transponder key is one of the most noteworthy, and it is one of the major reasons you cannot just go to any old shop and acquire a new duplicate of your auto key. Replacing a transponder key is more costly, but the extra protection is well worth the cost since cars with transponder chip keys are among the least stolen automobiles. If your transponder isn't operating correctly, we may try to fix it or build a new one for you. Keep your old key since even a broken transponder may help us produce a new one for you. You will save both time and money.
It is not an issue if your key is lost. As our specialists at Newark Locksmith Service roam around with a variety of instruments, we program a new transponder and cut a new key on the spot. We can create a new key for any vehicle you own.
Broken Car Key Removal
Getting locked out of your house, vehicle, or business is bad enough, but what if you break your key in the lock? If you ever find yourself in this circumstance, we've provided some advice on how to deal with it. You may be able to solve the issue on your own, but if not, we are always here to assist!
Motorcycle Lock Repairs
Our motorcycle locksmiths serve all motorcycle locksmith requirements, regardless of the motorbike you drive or the services you need. If it has to do with the safety of your motorbike or scooter, our specialists can assist you. We can assist you with your motorcycle's lock, key, and safety requirements. Simply call us, and we'll send someone over to help you.
Carlock Replacement
Looking for a locksmith to repair or install vehicle locks? Our auto lock installation specialists install and repair car door locks on all vehicle makes and models. There are several reasons why your automobile door lock may malfunction. Whatever the source of your lockout, our car locksmiths are here to help with all of your vehicle lock repair and replacement requirements.
Mobile 24-hour Service
Contact us right away, and our closest mobile locksmith will be there in 30 minutes! When you want locksmith services, you do not want to have to rush around to many locksmith companies in order to meet your security requirements. You can rely on our mobile locksmith services to arrive immediately and assist you with your locksmith service requirements without coming to us. Our mobile locksmiths bring all the required equipment with them wherever they go, so you don't have to wait. We want our services to be simple to use and inexpensive.
Car Trunk Lockout Solutions
Trunk lockouts are more difficult to handle than standard automobile lockouts. This is because auto trunk lock systems work differently than standard vehicle locks. Trunk locks should be accessible inside the car and never be picked from the exterior trunk lock.
Keys Stuck in the Trunk? Call Our Trunk Unlock Services 24/7 for rapid, inexpensive, and skilled locksmith assistance within 30 minutes! We are the skilled locksmith team to call when your vehicle keys are locked in the trunk. Call now for quick trunk unlock services near you!